about
us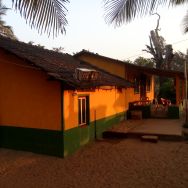 Sea-facing
Cottages
Step out of your room and you would be greeted by the views of pristine sands of Talashil beach!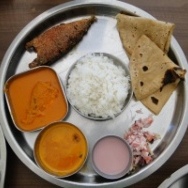 Malvani
Cuisine
We serve a variety of Malwani Cuisine at our resort that you cannot stop eating once tasted.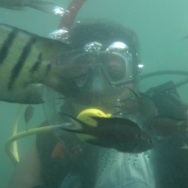 Scuba
Diving
Have a unforgettable date with the incredible marine life under the water which is warm & clear.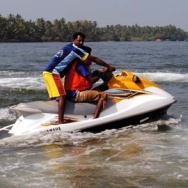 Water
Sports
Experience the ecstasy, while you scream your lungs out in this remarkable watersports.
Kinara Beach Resort is a new and inviting beach cottage resort on Tondavali beach in North of Malvan town. The beach cottages are solidly built, colourful, attractive and well laid out, most with a decent view of the sea. This property has an access of road with ample parking provision.
The bathing on Tondavali beach is particularly good for children, and a firm favorite for young families. The comfort of the standard rooms with basic amenities and authentic Malvani food offered at Kinara beach resort. It is also make it a very popular resort in Tondavali-Talashil for the discerning traveller.
Tikam family is host at Kinara Beach Resort,Tondavali-Talashil. A youngster Mr Tata, being a son soil and sea, he has his own coconut plantation and fishing boat. His family sharing his hands with him in the service. This down to earth family helps guests at Kinara beach resort and give feeling to be at home and make their vacation memorable.
The resort is located towards the north of Malvan town. The closest Bus Stop is "Suruche ban" in tondavali-talashil, Malvan market is 25 km by road. Within a 30 km radius of Tondavali-Talashil Beach is Chivala beach, Malvan beach, Achare beach and Tarkarli beach. It is close to some of destinations like Wagheshwar temple, confluence of gad river and Arabian sea, Rameshwar temple Kandalgaon, Shree Bhagwati temple, Revandi. Tondavali-talashil beach is divert beach to arrange parties with silent music.
Amenities
| | | | |
| --- | --- | --- | --- |
| - Spacious room | - Luxurious & relaxing beach with Sea View | - LED TV | - AC and Non-AC rooms |
| - Outdoor Dining table with shed | - Coffee / Tea Facilities | - Authentic Veg and Non-Veg Malwani food | - Private sitting area |
| - Packaged Drinking Water on surcharge | - Campfire facility | - Extra mattresses available on demand | - Hot bathing water |
| - Refrigerator available for chilled beverages | - Complimentary bathroom amenities | - Ample & Free Parking space | - Dolphin Point visit |
| - Boating and Water Sports facility on surcharge | - Diving & snorkeling activities | - Sightseeing arrangements upon request | - Pickup & Drop facility on surcharge |
our
price
Standard - Non A/C Rooms
Tariff → ₹ 1500
Total Rooms → 2
Capacity → 5 people
Extra Person → ₹ 200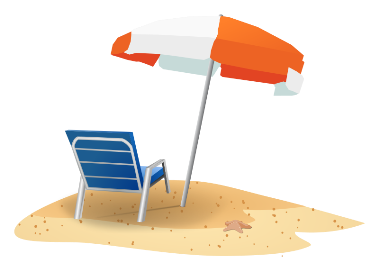 Premium - A/C Rooms
Tariff → ₹ 2000
Total Rooms → 2
Capacity → 5 people
Extra Person → ₹ 200
How to
Reach
By Rail
Kudal is the nearest railway station which is 35 Kms. Kankavali is also the nearest railway station which is 50 Kms. (Car-on-hire is available on request for pick up and drop).
By Road - From Mumbai
From Mumbai – Goa NH 17 – Hathkhamba – Kankavali – ( Right turn) – Achara - Vaigani - Malvan – Tondavali. Get Map
From Mumbai – Express Way – Pune – Kolhapur – Gaganbawada – Vaibhavwadi – Talere – Kankavali – ( Right turn) – Achara - Vaigani - Malvan – Tondavali. Get Map
By Road - From Pune
From Pune – Kolhapur – Gaganbawada – Vaibhavwadi – Talere – Kankavali – ( Right turn) – Achara - Vaigani - Malvan – Tondavali. Get Map
By Road - From Goa
Mapusa – Banda – Kudal – Malvan – Tondavali. Get Map
By Air
Goa airport (Dabolim) is nearest domestic airport.
travel
guide
Malvan
Malvan located in the southernmost district of Maharashtra is a 'taluka' in Sindhudurg District, famous for the historically eminent Fort by the same. Malvan taluka consists of a variety of distinctly pronounced villages like Wadi, Achara, Khalchi Devli, Jamdul, Juva, Pankhol, Talasheel and Sarjekot. The staple food is mainly fish curry and rice with fishing being the major occupation for livelihood. The town produces Alphonso mangoes and is also known for sweets such as Malvani Khaja made from gram-besan flour and coated jaggery as well as Malvani Ladoos. Malvani Dashavtar, a play based on mythological stories, is an important cultural element of the area that attracts loads of viewers. For sightseeing, there are lot of temples, beaches and forts which make one's visit a memorable one. Several apocryphal and some more credible stories related to the name Malvan exist. Salt producers use term Mahalavan to describe a region rich in salt, a compound word from "Maha" meaning great, and "lavan" meaning plantation.
How to reach
One can reach Malvan by Rail or Road. Boat transport is coming up in near future.
Daily buses commute between Mumbai & Malvan.
By train, Kudal station is 511 Kms away from Thane, 193 Kms from Ratnagiri, 398 Kms from Pune, 968Kms from Nagpur & 95 Kms from Panaji.
By air, Goa airport (Dabholim), a domestic airport is nearest one.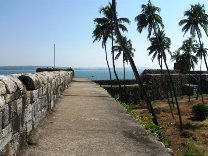 Tondavali Talashil Beach
The village Tondavli in Malvan tehsil is situated between Kalaval creek at east and Arabian seas at west. Lower Tondavli is Talashil wadi. Being near the Kalaval creek Tondavli has many water-sports options such as Sailing in the creek, riding water-scooter, Banana-ride etc. Here you can do 'Dolphin-sighting' without going in far into sea. Attraction There is also a Sangam point (Confluence point) where Kalaval creek joins Arabian Sea. Tondavali sea-shore has white sand and lush green Cyprus orchard. You can have a direct view of 'Kavada rock' in the deep sea from here. Tondavli has two main temples worth visiting. Shri Vagheshwar, a village-deity and Shri Datta Mandir. Talashil has Shri Gopal-krishna Temple with beautiful carvings. The main occupation of Tondavli villagers is fishing and one can test variety of local fish (Bangada, surmai, Paplet, Kolambi, Tarli) here.
How to reach
Tondavli is 22 Kms from Malvan and 45 Kms from Kankavli.
By Air: Dabolim, Goa
By Rail: Kankavli On Konkan Railway
By Road: Malvan 20 KM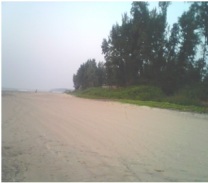 Tarkarli
Tarkarli is a village in Malvan taluka in Sindhudurg district in the Indian state of Maharashtra. It is tourist destination and a coral beach. This village is famous for its Ramnavmi Utsav. Tarkarli beach has a long coastline and clear waters. This place has gained prominence because of its long and narrow stretch of beach with pristine waters and water sports. Tarkarli is famous for water sports and boathouses. The wide river, the sailboats and the tiny hamlets situated on the riverbank, add to the tourism of Tarkarli. Sighting dolphins is not a rare event here. This place fishes throughout the year, the sea during summer and winter and back-waters during the monsoon since the sea water enters this area and also due to safety reasons.
How to reach
24.6 kms from Kinara Beach Resort.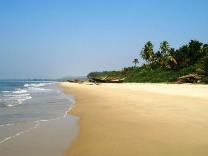 Devbagh
Devbagh is a stop for the classic beach lover. Sun, sand, surf, sea and endless open space, Devbagh is the next best thing to having a beach all to you. Between building sandcastles, combing the shore for seashells, endless beach volleyball games, and snorkelling and relaxing and letting the sea wash all your worries away, Devbagh opens a world of serenity and discovery: where you can be one with the elements. For the rest, there's snorkelling, speed boat cruises, bananaboat rides and para-sailing. The nearby fishing village is a delight, with its fishermen coming in with their fresh catch and the flurry of fisher folk sorting the bounty.
How to reach
30.2 kms from Kinara Beach Resort via Malvan Achara Road.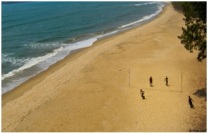 Sarjekot Bunder
Sarjekot stands at the mouth of Kolamb creek. In monsoon the Maratha ships were anchored in this creek. It is this point where the Kolamb creek and the Arabian Sea unite. It's a marvellous view at the junction to see the wavy waters and the creek's silent flowing water uniting together. It's a small port for the local ships of fisherman's of Sarjekot village. Sarjekot is at close promixity from the Malvan Bus stand.
How to reach
By road via Malvan – Achara Road. It is 20 kms from Kinara Beach Resort.
By Boat to Revandi village and then by Road via Malvan – Achara road. It is 4.3 kms from Revandi village.
By walk from Talashil seashore. It is around 2 kms from Kinara Beach Resort.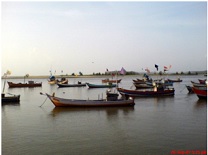 Gopal Krishna Temple
Gopal Krishna temple is a beautifully carved temple situated on the banks of the Talashil beach.
How to reach
Walkable distance from Kinara Beach Resort.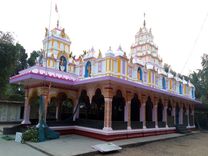 Wagheshwar Temple
Wagheshwar temple sits amidst of Tondavali which is 24 Kms away from Malvan. A Shivalingam located in a cave of a big rock. Lot of people come on each Monday to worship the Shivalingam. On the back side of temple there was a bushy jungle with wild animals. People say that in old days tigers were coming in the temple but never disturbed any mankind. So the temple is known as Wagheshwar temple. Just beside the temple there is a big rock in which a cave of size 80 Sq ft is carved. Many tourists come in Tondavali to visit this religious & beautiful tourist spot.
How to reach
3.5 kms from Kinara Beach Resort.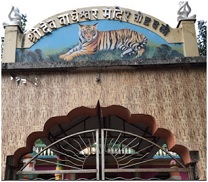 Bhadrakali Temple
Bhadrakali Temple is said to be established 400 years ago. Famous Malvani artist Machindra Kambli's production house "Bhadrakali Productions" is said to be named after this goddess. The meaning of the name Bhadrakali stands for "Bhadra" meaning God Shivshankar and "Kali" meaning Goddess Parvati. Temple premise has a self proclaimed idol. Every year on festivals of Shravan Somvar and Mahashivratri, there is huge crowd of devotees at the temple for blessings of goddess Bhadrakali. Temple environment is very calm and peacefull.
How to reach
Bhadrakali Temple is close by boat from Kinara Beach Resort.


Bharadi Devi Mandir
This is the Jaagrut devasthan situated at Anganewadi, 10 km from Malvan. The Bharadi devi temple is in the village of Masure. Anganewadi is the small village of Masure village. The Bharadi devi is famous for her wish-fulfilling (Navas) power. Her devotees express their wishes (Navas) before her and once the wish is fulfilled they come again for a Darshan (visit) to express their gratitude. The highlight of Anganewadi is an annual fair organised every February when two hundred thousand people visit the temple during the fair.
How to reach
24.2 kms from Kinara Beach Resort via Malvan Achara Road.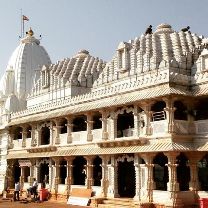 Malvan Bazaar
Malvan although more of a holiday destination also has a small commercial center. While in Malvan a visit to the Malvan market is quite warranted. One could shop for authentic Malvani hand groung masalas here in the Malvan market. Apart from the spices you can also purchase locally grown good quality cashew nuts, Kokam syrup and famous wooden toys and wooden artefacts made by hand. Here you can buy fresh fish and as well as dried fish. On the seashore you could also find a Vegetable market. Market serves a lot of nearby villages and is always busted with people during the day time.
How to reach
21.4 kms from Kinara Beach Resort.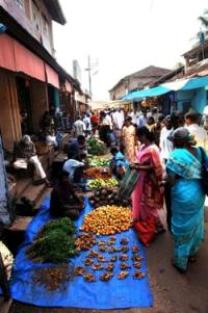 Tsunami Island
Tsunami Island (near Devbaug beach) is a small island on the delta of Tarkarli river. This beach cum island also is the place to enjoy boat ride in the backwaters of Tarkarli River. This island is not formed due to Tsunami waves, but due to this imaginary name it is a popular tourist destination for water sports where one can enjoy rides like Jet-Ski, Banana boat ride, Bumper boat, Kayaks etc. Best time to visit Tsunami Island for water sports is during high tide when the small island is partially submerged under the water (till knee length).
How to reach
32.8 kms from Kinara Beach Resort via Malvan Achara Road.
41.2 kms from Kinara Beach Resort via Giroba Mandir Road and Malvan Achara Road.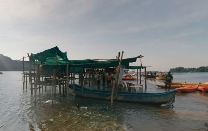 Rock Garden
The Rock garden is situated near the Arase Mahal, on the rocky shore of Malvan. It is a beautifully built garden overlooking the Chivla beach. Rock garden in Malvan is a best place to relax on the rocks and enjoy the calm of the sea side. A well landscaped malvan rock garden is also one of the popular places located at half kilometer distance from Malvan jetty near Arase Mahal. This garden offers a fantastic view of the wide spread Chivala beach. Unlike other gardens this garden is unique in its nature since there is no sand but a carpet of huge rocks and green lawns.
How to reach
32.8 kms from Kinara Beach Resort via Malvan Achara Road.
21.6 kms from Kinara Beach Resort.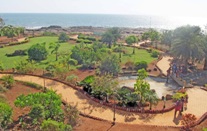 Sindhudurg Fort
This fort was constructed by Shri Chhatrapati Shivaji Maharaj, the Chhatrapati of the Maratha Empire. The construction was done under the supervision of Hiroji Indulkar, in the year 1656. For casting and the foundation stones, over 2,000 khandis (4,000 mounds) of iron and lead were used to it lay down firmly. There is a temple dedicated to Shivaji inside the fort. This is the only shrine of its kind in the country, which was built by his son Rajaram. Built over a period of three years (1664–67), the sea fort is spread over 48 acres (190,000 m2) with a two-mile (3 km) long rampart, and walls that are 30 feet (9.1 m) high and 12 feet (3.7 m) thick. The massive walls were designed to serve as a deterrent to approaching enemies and to the waves and tides of the Arabian Sea. The main entrance is concealed in such a way that no one can pinpoint it from outside.
How to reach
22.8 kms from Kinara Beach Resort.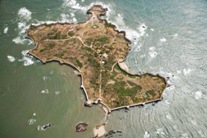 Vijaydurg Fort
The oldest fort on Sindhudurg coast constructed in the regime of Raja Bhoj of shilahar dynasty in 1205 (construction period 1193-1205). The fort was earlier known as "Gheria" as it is situated in the village "Girye". Shivaji Maharaj won this fort from Adilshaha of Bijapur in 1653 and renamed it as "Vijay Durg" as the then Hindu solar year's name was "Vijay". This is only one of the two forts of the Maratha kingdom, where King Shivaji personally hoisted the saffron flag. The other fort is "Torana". This fort was also known as "Eastern Gibraltar" as this fort was impregnable for a long time like the fort "Gibraltar" in Europe.
How to reach
68.4 kms from Kinara Beach Resort via Achara Devgad Road.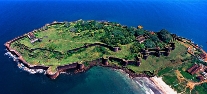 Scuba Diving
Snorkelling
Boat Ride
Dolphin Point
Para Gliding
Ski-Ride
Banana Ride